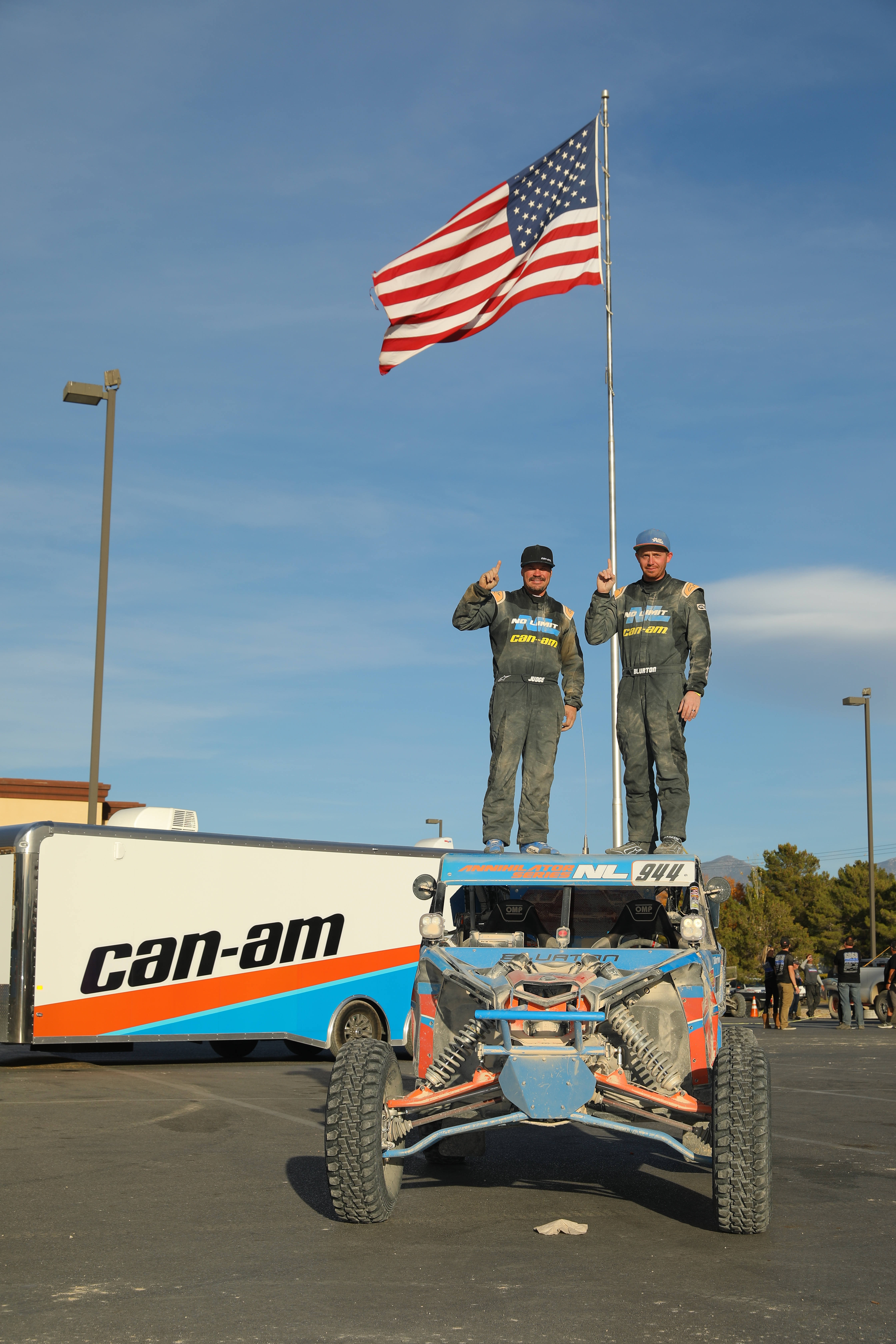 Phil Blurton owner of No Limit Race Development and Manufacturing and his Co-Driver Beau Judge have secured their Point Championship for the 2017 BITD UTV Pro Turbo Class. Accomplishing this as a rookie team was momentous for both No Limit Race Development as well as their main sponsor CanAm Offroad a DBA of BRP. This is the first Best In The Desert Championship for both No Limit RD and CanAm Offroad and has proven that the new CanAm Maverick X3 is a winning platform for desert and off road UTV racing. The Blurton/Judge driving team accomplished this points Championship with a 1st place finish at the 2017 UTV World Championships and follow up with another back-to-back 1st place finish at the Vegas To Reno race which is the longest race in America which was 540 miles long this year. These where also huge victories for CanAm Off road as they had never won a UTV World Championship. Phil Blurton is quoted as saying "This is a team win. We worked hard all season long to get better and make the car better and we are thankful for the support of CanAm and of our other sponsors who kept the car competitive all season long."
Blurton and Judge spent a lot of time with Wayne at Fox Racing Shocks. They where able to gain speed through the deep whoops while still providing great handling through the ruff terrain and technical sections of the different courses they raced throughout the year. Liqui-Moly was the first company to see the talent that is on this No Limit RD Racing Team and supported Blurton and Judge after they first met at the opening race in Parker. RCV Axles stayed focused on the teams racing needs to make sure the axles where all performing well for each race. Method Race Wheels and Tensor Tires came on board mid season and provided support for the teams wheel and tire needs. The 401R wheels and DS 32in tires where a perfect combination for the No Limit RD built CanAm X3 racing in this BITD series. Zollinger Racing Products provided their custom billet wheel hubs and rear knuckles which gave great peace of mind that the rear suspension was properly supported to handle the harsh environment that they had to withstand for thousands of race miles. The support at PCI Race Radios has been there from day one. Phil Blurton and Beau Judge both have championship winning short course season under their belt and PCI Race Radios has world class support keeping communications flowing even in the high mountain ranges that these BITD races are located in. Factory UTV, another Northern,Ca based company, also helped support the teams skid plate needs which is very important when racing off road in the desert.
Blurton and Judge are busy back at the No Limit RD headquarters getting prepared for a fresh 2018 BITD season and will be adding the Ultra4 King Of The Hammers Race to their schedule as well in 2018. This will be a great opportunity to show his Rock Racing back ground during the brutal KOH race course.
Phil Blurtons' manufacturing facility is based out of Northern,Ca in a town called Loomis. His 6000 sqft building and has space dedicated for fabrication and separate space for assembly. Phil creates custom cages and suspension parts for most major UTV brands. He also builds custom slide in chase racks for chase trucks that are out supporting race teams in the desert.  Phils unique fabrication abilities and driving skills create the ultimate combination for anything looking to get a custom UTV built that is not just competitive but could put you on the podium! Follow Phil and the No Limit RD Race Team on Instagram, Facebook, Twitter, Google+ and YouTube as they share pics and videos of their recent projects and race experiences.